An effective website will allow you to attract new customers from internet search engines, social media, and referral sites. Email promotion is the easiest way to get website traffic, but this requires you to know - and have permission to use - email marketing. At least 30% of your total website traffic should be organic, and we have below provided you with a cheatsheet for getting more website traffic from search engines.
1) Optimize your content around the right keywords
The best way to know what those searchers want is to know your personas. Make your website relevant and valuable to your target personas. Below are our recommended steps.
Make a list of important, relevant topics that you can help different personas with. Remember that there might be different keywords over the buyer journey from awareness, consideration, to decision.

Fill in those topic buckets with keywords.

Research related search terms using Keywords tools like the Google AdWords Keyword Planner

(or HubSpot's Keywords App) to cut down your keyword list.

Check for a mix of head terms and long-tail keywords in each bucket.

See how competitors are ranking for these keywords.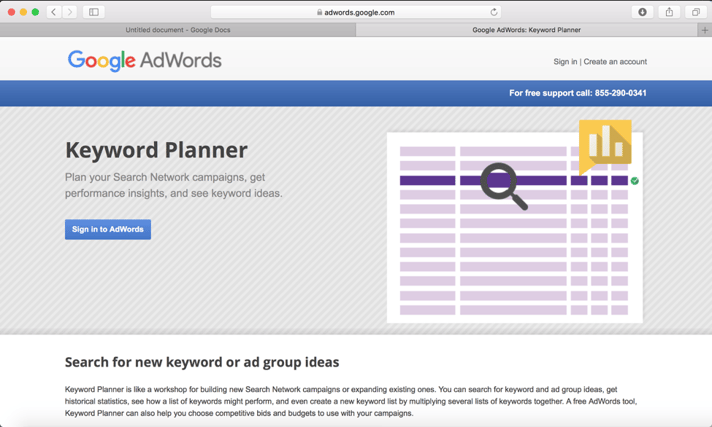 2) Search engine optimize your website
Optimize your content for web visitors, then Search Engine Optimization (SEO) will follow. Below are our recommended steps:
Focus on 1–2 long-tail keywords per page and include these 1–2 keywords in the title, URL, metadata description, and content.

Make sure website is mobile-friendly. Google prioritizes this since more people use their smartphones to search than their desktop.

Optimize the meta description - The meta description gives searchers information they need to determine whether or not your content is what they're looking for, and ultimately helps them decide if they'll click or not when using a search engine.

Optimize your images - search engines don't just look for images, but they look for images with alt text.

Use URL structures that help your visitors - Search engines favor web page URLs that make it easier for them and website visitors to understand the content on the page

Link internally when possible - inbound links to your content help show search engines the validity or relevancy of your content.
3) Write blog posts that will help your target personas
It's not just website pages that can help you attract traffic to your site -- your blog can be one of the most powerful tools you have to get new visitors. Research by HubSpot found that businesses that blog daily are almost 70% more likely to report a positive return-on-investment than businesses that blog only once a month
Create a separate blog post for each of your most relevant keywords. Because each blog post you write is viewed by search engines as its own individual website page, the more quality blog posts you write about the keywords that are most relevant to your persona, the more chances you have to rank for those keywords and show up on search engine result pages.

SEO optimize each blog post as described above with the keyword in the title, URL, metadata description, etc.

Experiment with blog posts that readers will share. This could be a self assessments or quizzes (e.g. using

www.Proprofs.com

), vote for your favorite blogger, top-5 books to read this fall, top 10 industry experts to follow on twitter.

Make it easy to share the blog posts via email or social media.

Promote all educational posts via social media using relevant Twitter hashtags (think keywords) and to relevant LinkedIn or OpenBC groups.
4) Get Inbound Links
Referral traffic via inbound links is important because it sends potentially qualified visitors to your website from trusted websites. Referral traffic also has SEO benefits. Google and other search engines consider these inbound links as positive ranking factors as long as they are coming from trusted websites. Here are our recommended steps to achieve this:
Publish your website and company to online directories, e.g. AIIM Online Buyer Guide
Get published on review websites, e.g. G2Crowd

Publish guest blog posts with links to supporting blog posts and resources on your website

Promote your pages, blog posts, and content assets on social media to create inbound links

Answer prospects' questions on social media using blog content

Comment on blogs with links to supporting blog posts and resources on your website

Be active on industry forums, e.g. AIIM Online Community

Monitor relevant keywords on social media and get involved if you can help with links to relevant blog posts and resources
5) Continuing improvements
Monitor what drives - and what doesn´t drive - traffic to identify what you need to improve to get even more traffic.
Identify low performing website traffic sources using your website analytic tool. Based on your findings, you will then be able to optimize each source to ensure that you get the most of every channel.

Analyze website traffic from organic search. Ensure each page and blog post is SEO optimized around a long-tail keyword.

Analyze website traffic from social media. Identify what social media platforms works best for attracting your target persona, and ensure each update has the best description, hashtags, and image.

Analyze potential website traffic from paid search. Do a test to determine the effect of paid search like Google AdWords or Facebook ads.

Analyze website traffic from email marketing. Email promotion is usually the easiest way to get more website traffic, but this requires you to know their email address - and have permission - to send emails. It is therefore a very effective tool for lead nurturing, but not for getting net new people to your website.

Optimize your top performing website traffic sources. Identify your top performing website traffic sources. Modify the detail. Use Google's Search Console - Google's free

Search Console

contains a section called the

Search Analytics Report

. This report helps you analyze clicks from Google Search, and it's useful to determine which keywords people are using to find your content.