Automate lead nurturing and buyer journeys to grow revenues. Our first customer this year saw a 300% increase in sales due to automated lead nurturing.
Successful lead nurturing requires multiple touch-points, - this could be emails, webpage pop-ups, SMS, and postcards.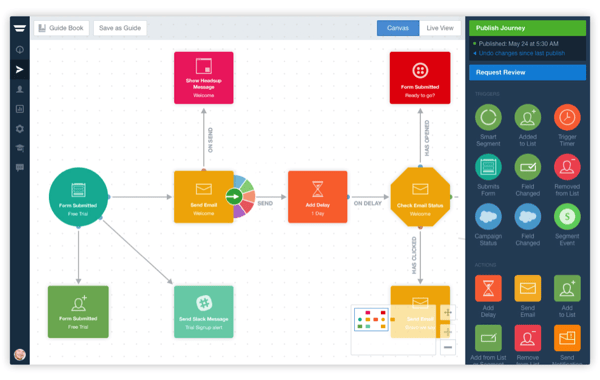 Automated lead nurturing and buyer journeys will help you acquire more customers by converting visitors into leads and leads into customers; nurture leads into paying customers; and get your existing customers to buy more.
We at Digital Doorway recommend AutoPilot for automating lead nurturing and buyer journeys.
"Autopilot is easy to use and it's quick to get started - and after just a few weeks, we increased new sales from our web shop by over 300%."-Viviane van den Bichelaer, Gent
AutoPilot is really simple to use, and it connects to your existing website, landing pages, forms, CRM, and email. It only takes us a few days to get you up and running.
Create multi-channel marketing journeys with a simple drag and drop.

Engage at just the right time with personalized email,

in-app messages, SMS, and postcards.

Automatically turn anonymous visitors into leads and customers. Capture forms and data from your websites, blogs, or apps instantly using an embedded tracking code.

Analyze the results with the real time activity feed and simple to understand reports.

Connect to Salesforce, Segment, Zapier, Slack, or their API to build a rich view of your marketing contacts and drive engagement through personalization.
Click here to access a video to learn more.