Our search behavior has changed the last few years. Content is everywhere, but a lot of it has poor quality. We therefore use longer search queries to find the best results. Google has also reported that 20% of search queries on mobile devices are voice searches, - this is usually sentences or multiple words. A study conducted by Ahrefs of search volume by keyword length, found 64% of searches are four words or more.
When we find content, we skim it quickly to determine if this is the answer to our question. In the past few years Google have been refining the way that it displays results to users. In particular, Google has been increasing the number of Featured Snippets that it displays for queries. A Featured Snippet is the box at the top that displays the direct instructions that have been pulled from the a webpage.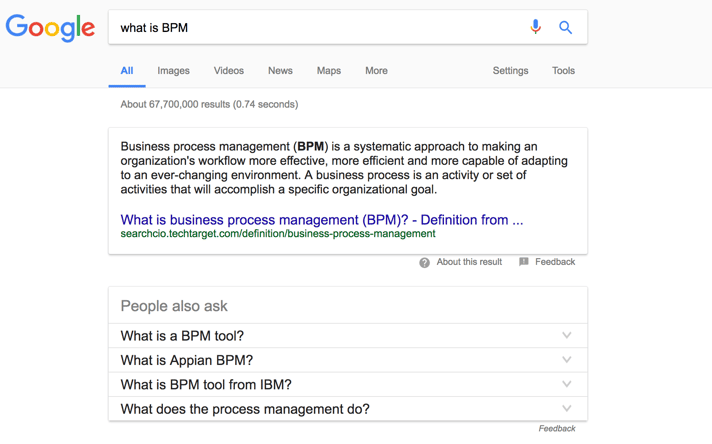 A featured snippet section gets a much greater share of the traffic for the given query when compared to non-featured snippets. Around 17% of the Featured Snippets show Wikipedia content, which means there are lots of opportunities for commercial providers.
It hasn´t been clear how to get your content featured here by Google, but new research by HubSpot found that link building doesn´t really matter that much for becoming a featured snippet. The semantic relevance to the keyword in question, along with clear page structure seems to be much more important.
Content creators add links to external content when making references, and to internal content to boost SEO rankings and to keep the web visitor engaged. The result over time is a mesh of connections with lots of keywords, and no clear winner. Google also penalize too many internal links, and a chaotic structure will not help your Google ranking or your chance of being a featured snippet.
Search engines have changed to deal with this. Google´s Hummingbird algorithm update improved semantic search, and their RankBrain algorithm update helps interpret searches to find pages that might not have the exact words searched for. With this shift in search technology, search behavior, and how we interact with content, the way we make content to attract users has to change. It´s time for a new approach to inbound marketing and SEO.
Introducing Topic Clusters
We need to change our ongoing content marketing and take a more strategic approach by focusing on topics, not specific keywords. Start by asking yourself what 5-6 topics you cover. Each of these topics will have sub-topics, which you can organize into topic clusters. This is how this could look like for your website: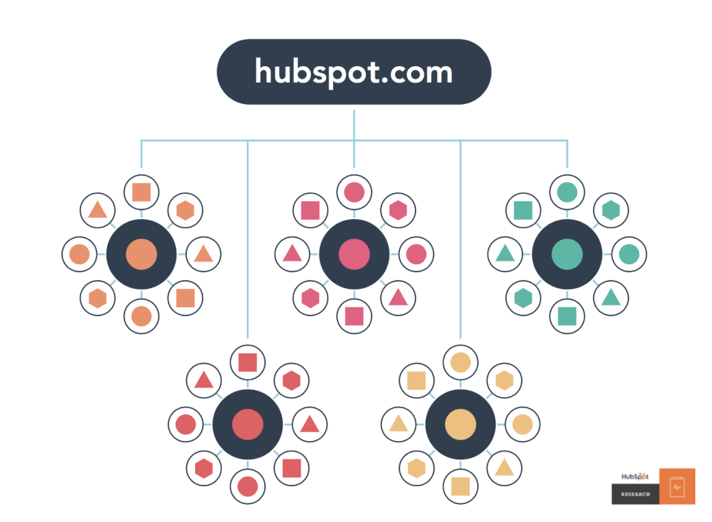 A topic cluster is a set of content comprised of a pillar page, and series of sub-topic content that covers a topic in-depth. Through building content within topic clusters, you can capture an increasing amount of search traffic across an ever-increasing pool of relevant keywords/phrases, as well as creating a strong affinity of a topic against our brand.
If you sell Records Management software, when possible pillars may be Records Management, Information Governance, GDPR Compliance, and Retention Schedules. The way a topic cluster should be structured is with one larger piece of content at the center that covers the topic in-depth, which we call a pillar page. Surrounding that pillar page is sub-topic content which answer long-tail questions on the topic. Here's an example of what this could look like for "GDPR Compliance:"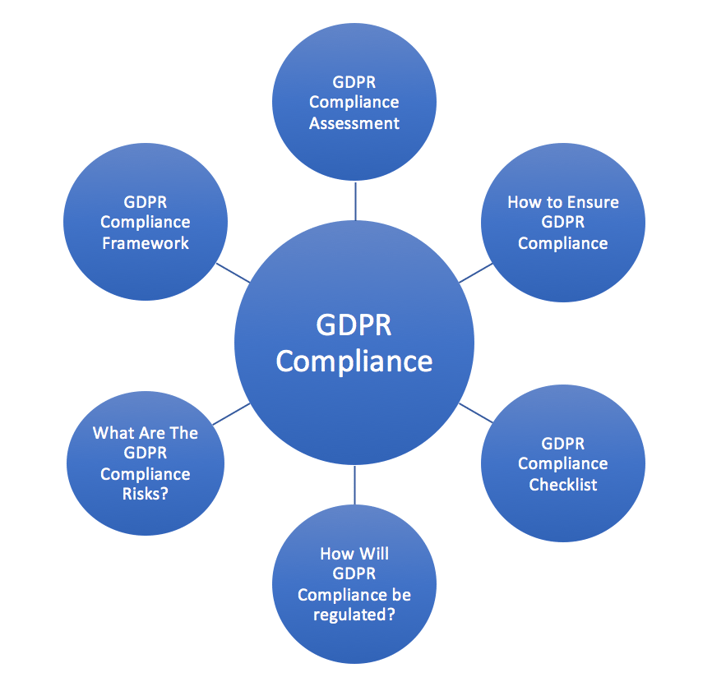 At the center would be your pillar page, and each surrounding dot would be it's own blog posts or content assets. The lines in-between them represent a text-based hyperlink from the sub-topic content pointing towards the pillar page. This hyperlink helps signal to search engines that all of this content is related. With all of your subtopic content pointing towards the pillar, it builds authority within your site
The basic premise behind building a content program in topic clusters is to enable a deeper coverage across a range of core topic areas, whilst creating an efficient information architecture in the process. We recommend therefore that you restructure your existing web pages and blog posts into topic clusters. This will allow you to better manage the internal linking between each more efficiently, it will boost your Google ranking, and it will provide a better user experience for visitors. HubSpot has already this functionality available in their software, - you find it under Marketing, Content, and Strategy.
There are a three key aspects of pillar content that you should consider:
Ungated - Pillar content should be ungated. All of the content should be available for search engines to crawl and visitors to read without having to fill out a form. You can have a form on the pillar page, but just don't hide content behind the form. Ask instead for their email address to download a copy of the content or get updates via a newsletter.
Comprehensive - Pillar content should be comprehensive, which also generally means long-form. Consider all of the questions your sales, services, and support teams regularly receive concerning a specific topic and build in answers within the page content.
Related terms - Remember when we talked about the algorithm updates above? Be sure to mention your core topic a number of times on the page, but also include synonyms as well. That way, no matter how someone searches for that topic, they'll hopefully land on your page..
Do you need help doing this? This is how we at Digital Doorway can help boost your search ranking with topic clusters:
Pillar Page Creation/Design -- Given the comprehensiveness of a pillar page, it requires a significant amount of time to create and write. After you have put in all the effort to write the content, it's important the page has an engaging and thoughtful design. Digital Doorway experts can help you create and design these pillars for you.
Information Architecture Review -- If you have been creating content over an extended period of time, it's likely you may have need to consider information architecture. This can involve ensuring that individual blog posts link back to topic pages, and ensuring the overall site is setup for success and does not have many common SEO mistakes.
Turn Existing Content Into Topic Clusters - This is an advanced version of #1 and #2 above. Here we take a full-look at all the content available on their site, organize it into topic clusters, create pillar pages, and promotion plans, and measure success.
Feel free to contact us to schedule a call to discuss how to use topic clusters for inbound marketing.