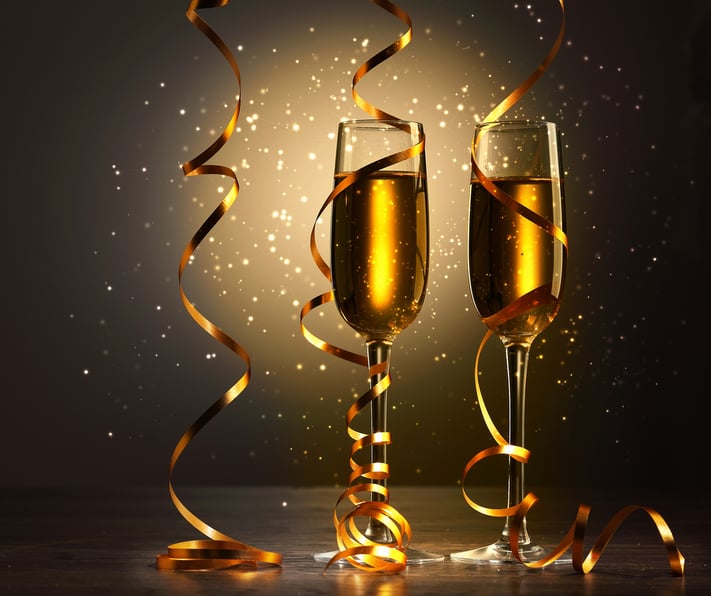 In my spare moments during the busy holiday season - somewhere between taking down the Christmas tree and putting away the champagne glasses - I pored through the many blogs, posts and predictions about top trends for 2020. It's interesting and inspiring to read expert insights and improve understanding about how AI and machine learning are marketing game-changers, or how "always-connected" devices are transforming customer experience, or about how Reddit is the new Instagram for B2C engagement (as Instagram was 2019's new B2C Facebook).
However, in my humble experience learned over (too many to count!) years of working in marketing and sales roles, the best recipes for success usually include going back to the basics, while in parallel, injecting fresh ideas, approaches (and technology) into your business.
From speaking with our customers, industry leaders and technology partners, I'd like to share a few suggestions which are founded in tried-and-true success factors and winning principles but with a fresh approach (and all are easy to quickly incorporate into your 2020 marketing strategy).
Strategy Before Content
"We urgently need a...<fill in the blank>: blog, campaign, collateral, webpage...ASAP!" All content marketers have heard a version of this request and consequently often need to quickly create content on short demand. But we frequently see content creators relying on product overviews or messaging from outdated marketing playbooks (note: if your playbook hasn't been updated in the past 6 months, it's likely outdated). The result: stale and uninspiring content which misses highlighting your product or service's best benefits or attributes.
Do yourself a favor - build 1 hour into each week to review and update your Marketing Playbook, both individually and as a team. Check to see if are you on target to reach your SMART Goals (note: your SMART Goals will probably stay the same but how you reach them may need to be refreshed). What sections in your playbook do you need to adjust, tweak or realign? Or, if you want to start the new year with a fresh, more dynamic approach, January is a great time to rethink your Marketing Playbook by adding new strategies and insights which align with best-practice processes and technologies.
As a side note: at the AIIM Europe Forum in November, I was pleased to see how many of the Information Management and Content Services providers have thrown out their old scripts and playbooks to create dynamic new messaging. Check out the DM Collaborators Blog series from the event.
Flywheel Customer Personas
How do you differentiate from a crowd of competitors and have you tested this message with prospects? Are you leveraging video or social media to maximum advantage - and are you confident that you are reaching your target audience? Do you have recent feedback from a client about your product or service? And most important: did you incorporate all of those fresh customer insights above into your most recent versions of your customer (buyer) personas?
Customer personas are representations of your ideal customers based on market research, interviews, trend analysis and real data, helping to provide structure and context for all of your customer-centric programs - from new business development and marketing to sales and customer service. But personas can become quickly outdated and lose relevance if they are not created with a 360° "flywheel" approach which aligns with ALL stages of the customer journey - and personas need to be constantly refreshed.
When was the last time you reviewed your personas OUTSIDE of your marketing team - with sales, customer service, innovation managers and product marketing? If you aren't having regular, monthly brainstorms to refresh and update your customer personas, you are likely missing valuable information which can accelerate your lead pipeline, convert opportunities to wins, and delight your customers. And best of all, persona brainstorming sessions benefit ALL of your customer-facing teams - from customer service and support, to innovation and market development, to marketing and sales.
So for 2020, ensure you have a customer-first, persona-based approach for your marketing strategy. Need help getting started? Check out our free Persona templates or contact our team to learn about Digital Doorway's Persona toolkit.
Video
For the past five years, video has transformed into a preferred format to communicate marketing messages, explain a product or service or highlight a corporate mission. However in 2019, video became one of THE top mediums to incorporate into demand generation campaigns - both for wide-reaching marketing campaigns as well as one-to-one prospecting, customer engagement and outreach. Recent statistics show how fast video is accelerating - Visitors are 72% more likely to buy after watching videos on an e-commerce website. Emails with embedded personal video links have a 2x - 3x higher click-through rate.
Personal video - sending a short email or text with an embedded personalized video message from the sender - is becoming the defacto format to reach out to new prospects or to nurture potential buyers (example: linking a personal video message to recorded webinar, video case study or demo of your product or service). Our team loves the easy-to-use, personal video marketing platform from TwentyThree and we are excited to watch this trend really take off in 2020. If you haven't yet incorporated personal video into your sales prospecting playbook, our Digital Doorway team is happy to share recent success stories and best-practices to help you get started.
I hope this blog has inspired you with a few ideas (or reminded you of some best practices) to help kick-start your marketing programs in 2020. And at the same time, ensuring you are building or evolving your marketing strategy by leveraging the possibilities created by dynamic new technologies, creative tools and streamlined customer engagement processes.
Interested in refreshing your marketing strategy with best-practices playbooks, templates and tools? Drop us an email at bacas@digitaldoorway.eu or schedule a meeting with our team to learn more.